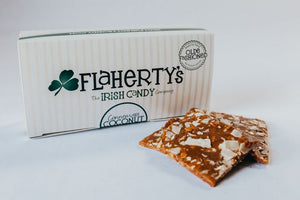 Special: The sixth box is free!   Select any six boxes of our Irish Candy and the sixth box will automatically be free in your cart.
Old fashioned, toasted-ribbon coconut smothered in a rich, butter toffee. Melt in your mouth goodness for coconut lovers! 
Ingredients: Real Irish butter, pure cane sugar, toasted-ribbon coconut. No artificial ingredients or preservatives. Click here to see more allergy information.
Learn more about our 100% satisfaction guarantee and family recipes by clicking here.