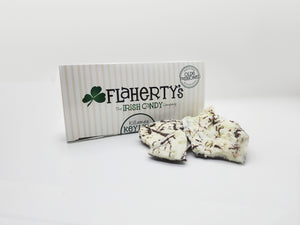 Select any six boxes of our Irish Candy and the sixth box will automatically be free in your cart.
Smooth white chocolate with a pop of old-fashioned key lime candy and topped with a drizzle of dark chocolate. This one will transport you to the Florida Keys! 
Ingredients:  Creamy white chocolate, key lime hard candy with a dark chocolate drizzle. No artificial ingredients or preservatives. Click here to see more allergy information.
Learn more about our 100% satisfaction guarantee and family recipes by clicking here.